Archive for November, 2011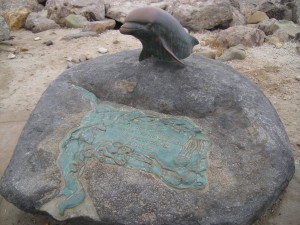 The best part of writing this blog is discovering a memorial new to me that was conceived and brought to reality by the family and friends of those lost at sea. The memorial to the research vessel Marie is such a piece.
In 1960 the research vessel Marie was lost in the Santa Barbara Channel, while conducting experiments on the potential use of underwater infrared technology. Three of the seven men aboard the craft were claimed forever by the Pacific Ocean. The bodies of the other four crew members were recovered within a few weeks of the accident in the waters near Santa Barbara. Forty years later a memorial to the Marie and her crew was dedicated at a site very near where the Marie departed on her final journey.
The story of the Marie, her crew, and the memorial is best learned by visiting the web site devoted to this accident. Please take the time to watch the twenty minute video history that you'll find when you first visit the site. Please use the link below:
http://www.project-tnt.com/marie/index.htm
I find the memorial to be simple, elegant and memorable. The very conscious decision not to list the Marie crew members on the memorial, but instead to dedicate the memorial to all those lost at sea, only adds to its timeless quality…