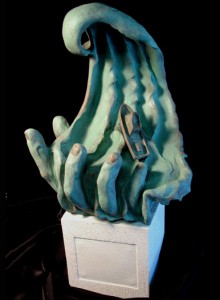 Almost all lost at sea memorials begin as a vision in the hearts and minds of family, friends, and shipmates. The journey from the initial vision of a memorial to final completion can be long and difficult, requiring constant dedication.
The image on the left is a small model of a proposed sculpture by Florida artist Robert Bruce Epstein entitled "The Hand of Fate". A dedicated group of citizens of John's Pass Village on the west central Florida coast hope to turn this beautiful concept into a permanent memorial. Families and friends of Florida fishermen lost at sea are intimately involved in this effort.
The web site for the memorial contains a listing of almost 150 individuals who died at sea sailing from the west central Florida coastal area. The remains of most of those victims are lost forever in the waters of the Gulf. These include commercial fishermen, recreational fishermen, divers, Coast Guard crews, and others. Looking through that list is a sobering experience. A fully realized memorial would be a most appropriate way to honor their memory. Perhaps some readers of this blog will be able to contribute.
Please visit the memorial's fine website at: http://www.floridafishermenlostatsea.com/
An extensive newspaper article on the proposed memorial can be accessed at: http://www.floridafishermenlostatsea.com/pdf/times2010.pdf. This article can also be found on the memorial website.
5/26/12 – The Memorial is now completed and is beautiful. Please see the comment below from the artist Robert Bruce Epstein and these first photographs. More to follow in a future post.