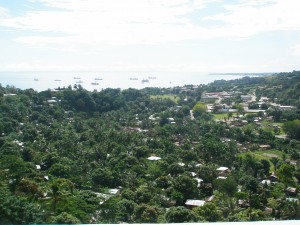 On a hill overlooking the beautiful and tranquil Pacific Ocean in Honiara, Solomon Islands stands an American Monument to the Naval and Marine Corps nightmare known as Guadalcanal. The first major United States Pacific offensive of WWII was ultimately successful, but at a cost that was horrific. Twenty-four U.S. naval vessels were lost – aircraft carriers, heavy cruisers, light cruisers, and destroyers. Their names echo in American naval history – Astoria, Hornet, Wasp, Atlanta, Cushing, Porter, Preston, Juneau, and on and on. The human cost was even higher – 1,592 Marine and Army troops and airmen killed in action – 5,041 U.S. Naval officers and sailors killed, most of those lost at sea in some of the most heroic and brutal naval combat in human history. One must add to that total the thousands of equally brave Japanese and Australians who also gave their lives in 1942 and 1943 in the tropical waters off Guadalcanal that came to be known as "Ironbottom Sound" to those who survived the carnage.
It's been almost seven decades now – the brutality and death of the Battles of Cape Esperance and Savo Island and Tassafaronga have been replaced by the lush green background of the Solomon Island hills – and the once blood-stained waters washed clean by a deep calming blue marking the common resting place of men once mortal enemies, now resting together in peace. The words of Joseph Conrad were perhaps meant for this very place more than any other…
"May the deep where he sleeps rock him gently, gently, until the end of time."
I encourage every reader of this blog to read James D. Hornfischer's book "Neptune's Inferno" to learn much more about the U.S. Navy at Guadalcanal. It is superb history, written by a master of the English language.