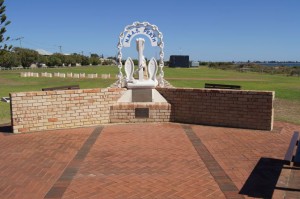 The names of honored Australian warships can sound like the reading of names of Australia's most prominent cities from a map – Sydney, Canberra, Perth. These beautiful cities personify the swagger and pride of all Australians. But add the simple preface phrase His Majesty's Australian Ship to those famous city names and a somewhat different image results – an image of bravery, dedication, sacrifice, suffering, and loss. During World War II the sacrifices of the Royal Australian Navy and her brave sailors were second to none.
A previous post on this blog covered the HMAS Sydney and the stunning memorial to her memory. The HMAS Canberra was lost off of Guadalcanal in 1942 in the Battle of Savo Island. The United States Navy named a ship in her memory – the only U.S. Naval ship ever named after the ship of another country. Such was the esteem the Americans held for her sacrifice.
HMAS Perth also had a distinguished career and a tragic end. Built in 1936 at the Portsmouth Naval Dockyard in England, the Leander class light cruiser was acquired by the Royal Australian Navy in 1939. Early in WWII she saw action in the Mediterranean Theater of War – supporting actions in Greece, Crete and Syria. In early 1942 she was transferred to waters closer to home.
On February 14, 1942 HMAS Perth and the USS Houston were the only large Allied ships to survive the Battle of the Java Sea. After the battle the two ships attempted to resupply, but fuel and ammunition shortages left both cruisers critically short of shells and fuel when both were ordered to sail for Yjilatjap via the Sunda Straight two weeks later. Shortly after midnight on March 1, 1942 both ships were attacked by a superior Japanese naval force in the Sunda Straight. HMAS Perth was hit by four enemy torpedoes and was lost. USS Houston was sunk a short time later.
353 of HMAS Perth's crew of 682 died on the night of the Battle of Sunda Straight – almost all lost at sea. Of the 329 survivors, most were taken prisoner – sent to live and die in yet another hell, as forced labor in the building of the Burma Railroad made infamous in the book and movie "The Bridge on the River Kwai". Only 218 of HMAS Perth's original crew were repatriated after the war.
Those interested in the Battle of Sunda Straight and the Allied survivors later ordeals in Burma are encouraged to read Australian writer Mike Carlton's fine book Cruiser about the HMAS Perth and James D. Hornfischer's equally fine work Ship of Ghosts, detailing the story of the USS Houston.
The Sunda Straight is the tropical body of water separating the islands of Sumatra and Java. It is the final resting place of hundreds of brave sailors from His Majesty's Australian Ship Perth…