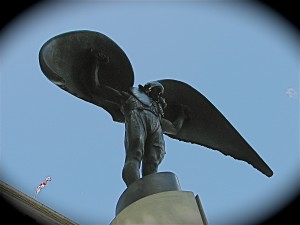 In the Victoria Embankment Gardens along the river Thames in London is a memorial to the Fleet Air Arm of the Royal Navy. The memorial is a striking bronze figure of Daedalus, the ingenious craftsman of Greek legend who created wings to escape King Minos of Crete, only to lose his son Icarus when he flew too close to the sun and his wings melted. Icarus plunged into the sea…
The memorial was designed by Royal Academy artist and sculptor James Butler as a tribute to the more than 6,000 individuals who have given their lives in Royal Navy Air Service since World War I – 1,925 of whom have no graves except the oceans of the world.
Butler's own words best describe the power of the statue: "I wanted Daedalus to appear mighty, strong and capable, a man and yet half machine, with wings which are an integral part of him and yet still clearly man-made and fastened crudely to his arms. He must have an air of tragedy in his countenance, after all he is mourning the death of his colleagues. With his arms outspread in this position and his head slightly bowed, there are suggestions of crucifixion which signal the sacrifice of the brave men and women in their Naval Service over the years."
When I saw the statue a few weeks ago on a visit to London with my wife, I noticed some very small, individual tributes left at the base. One was a small wooden cross in memory of "Lt. Commander 'Barry' Knowles, RN". I did some research on Commander Knowles on my return to the United States. David Barry Knowles and his crew mate Ian E. Shaw were lost in the crash of a Sea Vixen aircraft in the Irish Sea on December 4, 1967. The Sea Vixen was a beautiful but exceptionally unforgiving aircraft operated by the Royal Navy off their aircraft carriers for over a decade. Almost 60 Royal Navy aviators lost their lives flying the Sea Vixen.
The Fleet Air Arm Memorial is a truly moving and powerful symbol of the sacrifices of David Barry Knowles, Ian Shaw, and the thousands of others who gave so very much in the service of their country…