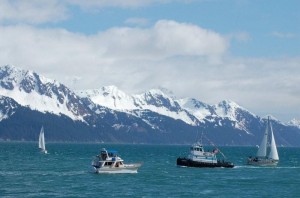 One of the most satisfying aspects of writing this blog is to hear from people around the world about existing memorials that are new to me and to learn about entirely new memorials nearing completion and dedication. Mike Glaser of the Seward Mariners' Memorial Committee has been very kind in keeping me advised of the progress of a new memorial in Seward, Alaska that will be dedicated on May 20, 2012. This memorial has taken almost a decade of hard work to bring from concept to dedication – and another 18 months of effort will be required to complete all the aspects of the project design.
It would be difficult to imagine a more beautiful setting for a mariners' memorial than on this site at the breakwater overlooking Resurrection Bay. The maritime history of Seward began in 1792 and continues through today – whaling, commercial fishing, recreation, and military activities are all woven into the rich fabric of the area. Through the centuries many of those mariners have been lost at sea. The Mariner's Memorial will become a place where these souls can be remembered and honored. There are also plans to incorporate a section of the memorial in honor of the victims of the 1964 earthquake.
The best way to learn about the memorial is the visit their fine web site at http://www.sewardmarinersmemorial.org/home. Take some time to read about the design and plans for the site, view the construction project photos and videos, and learn more about several of their dedicated volunteers who made this all happen. If you know of someone who should be honored, then please consider ordering a memorial plaque for permanent display. If not, then please make a donation to this fine cause. As I've mentioned in this blog before, it's not always the design and construction funding that is the most difficult to obtain. Ongoing maintenance and care can often be the larger challenge. Please consider donating to this effort.
My home in California is located a few miles from a state park that contains the home and gravesite of the writer Jack London. A museum within the park displays many of London's original photographs and writings of his time in Alaska. I am quite certain that he once looked out upon the vistas of Resurrection Bay. In addition to writing about Alaska, London wrote one of the enduring classics of maritime life – The Sea Wolf. One of the early lines of this remarkable story concerns burial at sea and its brutal finality…
"I only remember one part of the service," he said, "and that is 'And the body shall be cast into the sea'. So cast it in."
The new Mariners' Memorial in Seward will certainly be an appropriate place to contemplate the souls lost off her wild and most beautiful shores…