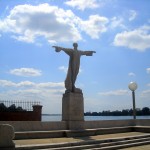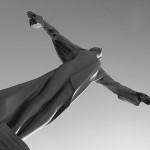 An incredible amount of information is available on the loss of the Titanic in 1912. Thus it is not necessary to discuss the accident in this blog. Interest in the shipwreck itself, however, has increased of late due to a new photographic survey conducted this summer, focusing on parts of the ship's remains not previously observed or photographed.
Memorials to the victims can be found in a variety of locations around the world – including the United States, Canada, Ireland, the United Kingdom, and Australia. Many of these memorials will be covered in future posts. Today's post will highlight a memorial that is probably not seen by many tourists in Washington, D.C. due to its location well outside the city center.
The Washington Titanic Memorial was unveiled in May 1931 by the widow of President Taft. It was designed by Gertrude Vanderbilt Whitney and sculpted by John Horrigan from a single piece of Rhode Island red granite. The original placement of the memorial was in Rock Creek Park along the Potomac River. In 1966 the memorial was removed to accommodate The Kennedy Center for the Performing Arts. In 1968 it was re-erected without any ceremony on the waterfront outside Ft. McNair.
An inscription can be found on the front and back of the memorial base. It reads:
TO THE BRAVE MEN
WHO PERISHED
IN THE WRECK
OF THE TITANIC
APRIL 14 1912
THEY GAVE THEIR
LIVES THAT WOMEN
AND CHILDREN
MIGHT BE SAVED
ERECTED BY THE
WOMEN OF AMERICA
(back)
FOR THE YOUNG AND THE OLD
THE RICH AND THE POOR
THE IGNORANT AND THE LEARNED
ALL
WHO GAVE THEIR LIVES NOBLY
TO SAVE WOMEN AND CHILDREN
1,517 people died on the 
Titanic
on that terrible night. Over 300 bodies were eventually recovered – but almost 1,200 souls were 
lost at sea
in the Atlantic southeast of Nova Scotia. Many of those who died gave their lives so that others might live.
One thing  is almost impossible to miss when viewing the memorial – Kate Winslet imitated the statue's pose on the bow of the ship in James Cameron's movie "Titanic".