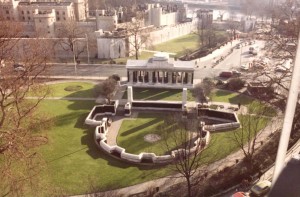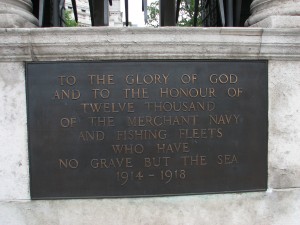 Perhaps more than any other nation, Great Britain has relied on mastery of the oceans for her greatness. From the days of empire in the 18th and 19th centuries, to the days of fighting for survival during the brutal conflicts of the 20th century, the sailors of the British Isles left the ports of England determined to serve their country. Hundreds of thousands of these souls would never return to their homeland.
The Tower Hill Memorial is located across the street from two of London's iconic sites – the Tower of London and the Tower Bridge. Separated into two parts, the memorial commemorates the men and women of the Merchant Navy and Fishing Fleets who gave their lives during WWI and WWII protecting their nation and who have no grave but the sea.
The WWI Memorial is a vaulted corridor listing the names of thousands of ships arranged alphabetically. The names of the lost are listed below the name of each vessel. The ship's master is listed first, with the remainig dead of each ship listed alphabetically below the Master. No rate or ranking other than the Master is indicated. 11,919 names are listed in this corridor.
The WWII Memorial is in the form of a sunken garden, the walls containing the names of nearly 24,000 souls lost at sea. Teak benches allow visitors to sit and contemplate their surroundings. In the center of the garden is a 'pool' of bronze, engraved as a mariner's compass set to magnetic north.
Perhaps the most powerful aspect of this memorial is when one considers the scope of the sacrifice it represents. During WWI and WWII the British lost over 8,000 merchant ships alone. This staggering figure does not include fishing or military vessels. 49,000 British merchant seamen lost their lives in the two world wars – over 50% of those lost at sea. Each name on these walls represent a story, a life too short, a loved one missed. When I visited the memorial I greatly appreciated the decision to list the names without rate or rank. These sailors who rest in sea-locked graves are all equal in the hearts of a grateful nation…