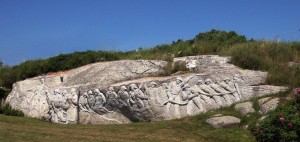 Among the most beautiful places on earth are the Canadian Maritime Provinces. Their scenic beauty is equaled by the kindness and hospitality of their citizens.
The Maritimes possess a seafarer history matched by few other locations. Elegant and timeless ships have been designed and built in the shipyards of the Maritimes – such as the "Marco Polo" from New Brunswick, the "Bluenose" from Nova Scotia, and the rum runner "Ellie J. Banks" from Prince Edward Island. The fishing industry gave life to the Maritimes. One can only hope that the lobsters remain plentiful and that the cod will someday return in great numbers.
The Maritimes have also been the location of some of the great tragedies at sea. My next few posts will discuss some of these, but I'd like to begin these posts with a thing of beauty in Peggy's Cove, Nova Scotia.
William Edward deGarthe was born in Helsinki, Finland. He emigrated to Canada in 1926, moved to Halifax in 1945, and eventually settled permanently in the beautiful village of Peggy's Cove in 1955. He was a painter and sculptor, his artistic work devoted to maritime subjects after his move to Peggy's Cove. His "Fisherman's Monument" was sculpted out of a 100 foot granite face of rock below his home. It depicts thirty-two fishermen and their wives and children enveloped in the wings of a guardian angel. The sculpture and his home (now a museum to his work) were donated to the province of Nova Scotia after his death. It is a beautiful piece of art – I'm certain meant to honor both the living and those lost at sea.