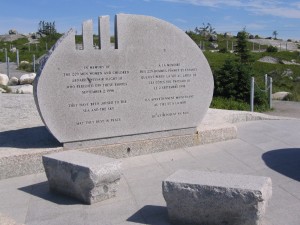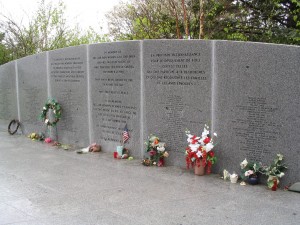 On opposite shorelines of St. Margarets Bay, Nova Scotia are two memorials to the victims of the September 1998 crash of Swissair Flight 111.
Swissair Flight 111 was a McDonnell Douglas MD-11 on a scheduled flight between New York's JFK airport and Geneva, Switzerland. Faulty wiring in the first class entertainment system led to a fire. The fire found a ready fuel source in the flammable material used as insulation within the fuselage. The fire grew rapidly, resulting in instrument failure and eventual loss of control of the aircraft.
The violence of the crash is almost impossible to comprehend. The aircraft hit the water with a force of impact of at least 350 g – instantly disintegrating into 2 million pieces. The accident investigation by the Transportation Board of Canada took over four years. The human toll was 229 souls from twenty nations – lost in an instant.
The Royal Canadian Mounted Police medical examiners made every effort to identify the victims. Fingerprints, dental x-rays, and the largest DNA identification project in Canadian history eventually identified body parts from everyone on board. But there is no doubt that body parts from virtually every victim were lost at sea that fateful night, a few miles off this most beautiful part of the Nova Scotia coast.
The Canadian Government established two memorials to the dead of Swissair Flight 111 on opposite sides of St. Margarets Bay. About one-half mile from the iconic Peggy's Cove lighthouse is a memorial made of Nova Scotia granite paying tribute to all the dead collectively. The three notches in the top corner of the monument form the number 111 – and when peered through the back side of the memorial point exactly to the crash site about seven miles offshore.
On the other side of St. Margarets Bay, near Bayswater Beach, is a larger monument listing the names of all 229 victims. Unidentified remains of the victims are also interred at this spot.
Information on the accident abounds on the Internet. Several excellent documentaries can be found on YouTube. These include actual air traffic and cockpit recordings, computer generated recreations of the events leading to the accident, and interviews with accident investigators. The memorials themselves, including enormous background material and beautiful photographs, are highlighted at the following links:
http://ns1763.ca/hfxrm/swisswhale.html (The Whalesback – Peggy's Cove Memorial)
http://ns1763.ca/lunenco/swissbaysw.html (The Bayswater Memorial)
Aircraft accidents are perhaps the most difficult of all lost at sea scenarios for family and friends. The accidents often happen thousands of miles from where victims' loved ones reside, whatever recovery that is possible might take weeks or months to accomplish, the accident investigation itself might take years, and the passengers themselves are generally strangers to each other – meaning that those who grieve are also strangers to each other, thrown together under the most stressful and tragic of circumstances. I suspect that beautiful memorials such as these in Nova Scotia serve to bring mourners together for a common purpose, under less stressful conditions, where time alone has performed some healing – and that strangers are strangers no more…