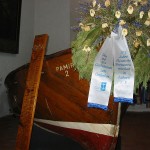 In a corner of St. Jacob's Church (known as the seafarers church) in Lubeck, Germany is a memorial to the windjammer Pamir. The memorial is simple – a salvaged lifeboat from the stricken ship and a board listing the names of the 80 souls who were lost at sea in September 1957 off the Azones.
This website is devoted to memorials to those lost at sea, but sometimes it is difficult to ignore the history of some of the proud and beautiful ships that also rest at the bottom of the world's oceans.
The Pamir was one of the last great windjammers. The four-masted barque was built in Hamburg and launched in July 1905. She was the fifth of ten near sister ships – with a length of 375 feet, a beam of 46 feet, with three main masts that stood 168 feet above her deck.  She was capable of deploying over 40,000 square feet of sail area. She carried grain and nitrates to and from Europe, Asia and South America until WWII. In August 1941 she was serving under the flag of Finland.
During WWII she was seized as a war prize by New Zealand, continuing to haul freight during the entire conflict. She made numerous trips from New Zealand to San Francisco, Vancouver and Sydney. In 1948 she was returned to the Erikson Line of Finland, where she resumed hauling Australian grain to Europe. In 1949 she hauled barley from Australia to England, becoming the last windjammer to carry a commercial load around Cape Horn. In the early 1950s she was sold to a German consortium. where she was used as a cargo-carrying school ship on a route primarily between Germany and Argentina.
On August 10, 1957 the Pamir left Buenos Aires for Hamburg with a crew of 86, including 52 merchant marine cadets. On September 21, 1957 she was caught in Hurricane Carrie before shortening sails. She was apparently unaware of the hurricane, being caught with open hatchways. Considerable water entered the ship, the grain cargo shifted and the ship listed severely to port. Her port side eventually went underwater, leading to her loss.
The ship was able to send three distress signals before sinking. A nine-day search for survivors was organized by the United States Coast Guard, but only four crew members and two cadets were ever found. The rest of the crew perished 600 miles west-southwest of the Azores. None of the ship's officers survived, so there was never any testimony as to how the ship was caught so unprepared for the hurricane.
The memorial in St. Jacob's Church displays one of the two lifeboats that were eventually found.
Two ships very similar to Pamir can still be seen – the Peking at the South Street Seaport in New York City and the Passat in Travemunde, Germany. Several fine books can also be found that describe the history and final voyage of Pamir:
The Last Time Around Cape Horn by William Stark
The Pamir under the New Zealand Ensign by Jack Churchouse
Tall Ships Down by Daniel Parrott