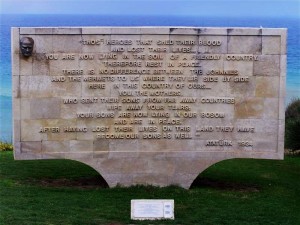 In the inglorious and brutal history of warfare, few places have ever witnessed the carnage that played out in World War I at a place in Turkey called Gallipoli. From April 25, 1915 to January 9, 1916 a joint British and French operation was conducted to capture the Ottoman Empire capital of Istanbul and to control the Dardanelles – the sea route to Russia. The British and French operation failed, but only after the deaths of over 130,000 participants – with an additional 261,000 wounded. Many experts estimate that the dead and wounded total is actually significantly higher.
The casualties came from seemingly everywhere – the United Kingdom, Turkey, France, Australia, New Zealand, British India, Newfoundland, Germany, Austria, Hungary, and French West Africa. Gallipoli was an equal opportunity place of courage, sacrifice, devotion to duty, and death. Almost half of the dead were never identified – body parts by the thousands buried in mass graves. Hundreds more died in naval actions supporting the landings, forever lost to the sea off the coast of Turkey
Cemeteries and monuments are found throughout the area. They are somber and beautiful and meticulously maintained by several countries. One of the heroes on the Turkish side was Mustafa Kemal. His rise to the presidency of Turkey began at Gallipoli – a place he would always hold sacred for anyone, regardless of country, who fought at that horrific time and place. In 1934 Kemal, now known as Ataturk, was President of Turkey. He ordered the construction of a monument at ANZAC Cove. ANZAC was the Australian-New Zealand Army Corp. ANZAC Cove was the location of one of the landings made by Australian and New Zealand Army troops during the campaign. ANZAC Cove was a place of particular killing and sorrow.
Expand the photograh and read the words of Ataturk. Seven decades have not decreased their power or eloquence – nor will seven centuries.